144th Thai Poosam at Vadalur, Tamilnadu(India)
141 th Anniversary  of  Vallalar's Divine Light Body attainment.
Date : 3 Feb, 4th Feb 5th Feb 2015
Event: Jyothi Dharsan, Gnana Dhana by Thanga Jyothi Gnana Sabai
Thai – a Tamil month
Poosam – one of 27 stars. Auspicious star for enlightenment.
With abundant grace Thiru Arut Praksha Vallalar(Chidambara Ramalingam) established Sathya
Gnana Sabai for people of this world to understand God and Athma as such.
Visit vadalur on Thai poosam and obtain Grace of  Vallalar.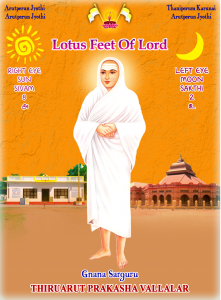 Avoid the following to obtain Gods grace
1. Non vegetarian Food
2. Smoking
3. Drinking of Alchohol
4  Killing animals in the name of God
***Thanga Jyothi Gnana Sabai Trust's volunteer  are giving FREE upadesam on these days.